Many Mac users want to enjoy their favorite DVDs and Videos on the portable devices, but they just do not know how, so this article is created to show how to put DVDs and convert Videos on Mac OS X
What you need are Aiseesoft DVD Ripper for Mac and Aiseesoft Video Converter for Mac.
It includes two parts
Part 1: How to rip DVDs on Mac OS X to put on portable devicesPart 2: How to convert Videos on Mac OS X to put on portable devicesPart 1: How to rip DVDs on Mac OS X to put on portable devicesStep 0:
Download and install Aiseesoft DVD Ripper for Mac (Intel Version) or (Power PC Version).
Step 1:
Click the "Load DVD" button, find the DVD folder of the movie you want to add from your DVD-ROM, and Click "Open".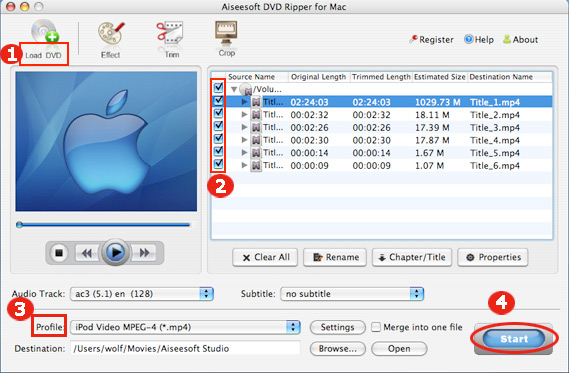 Step 2:
Tick the check boxes before the titles and chapters that you want to rip.
Step 3:
Select the output video format you want from the "Profile" drop-down list.
Aiseesoft DVD Ripper for Mac can rip your DVD to almost any video formats supported by popular digital player.
Step 4:
Click "Start" button to start your conversion
The conversion will be finish soon when you enjoy your leisure time.
More editting functions1.Trim
Click "Trim" button and drag the "Start trim slider" to set the start time and "End trim slider" to set the end time if you just want to rip only a part of the DVD movie.(a)
You can also do that by clicking the "Start trim button" and "End trim button"(b).
The third way you do that is set the exact Start/End time at the right of the pop-up window and click "OK"(c).
2. Crop
If you want to remove the black edges or you want to rip a certain area of your video, please click the "Crop" button.
You can do this either by drag the frame around the movie (a) or set the crop value: "Top, Left, Bottom, Right".(b). Another way to do that is choose mode from "Crop Mode"(c).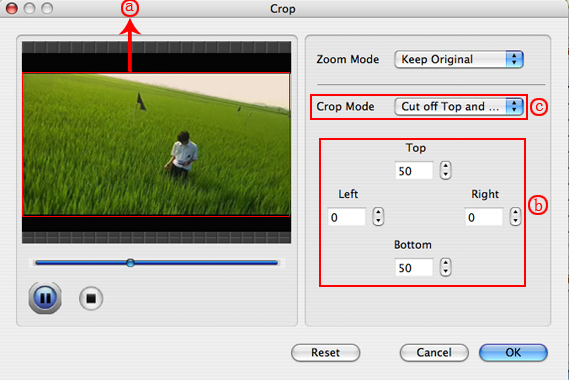 3. Effect
If you want to adjust the effect of your movie, please click the "Effect" button and a pop-up effect window will appear. It allows you to edit your movie's effect including "Brightness, Contrast, Hue, Saturation and Volume".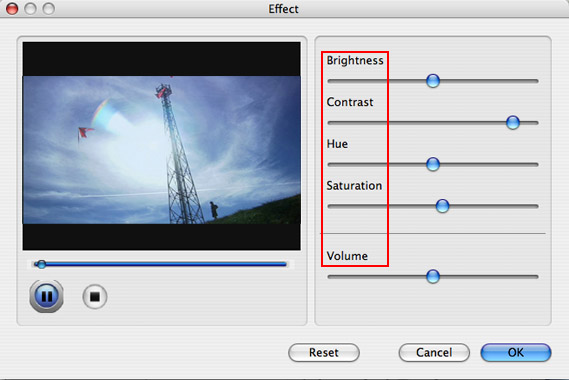 Part 2: How to convert Videos on Mac OS X to put on portable devicsStep 0:
Download and install Aiseesoft Video Converter for mac(Intel Version) or (Power PC Version)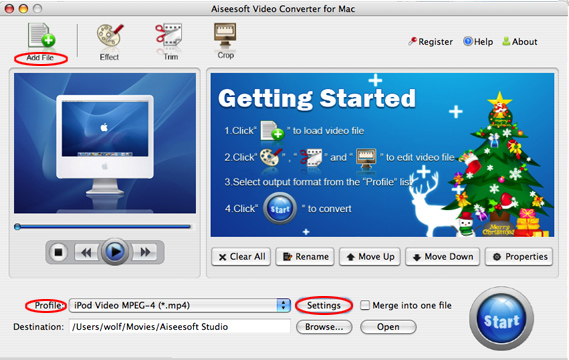 Step 2:
Click "Add File" to load your video sources.
The supported input formats includes: MPG, MPEG, MPEG2, VOB, MP4, M4V, RM, RMVB, WMV, ASF, TS, MKV, AVI, 3GP, FLV, MPV, MOD, TOD, MP3, MP2, AAC, AC3, WAV, MID, MIDI, WMA, M4A, RA, RAM.
Step 3:
Set the output formats, specific parameters and destination by click the drop-down arrow of "Profile" to choose the exact output format
Step 4:
Click "Start" button to begin the conversion. The conversion speed can reach up to 300%, in a short while the conversion will be finished.
Now you can easily enjoy your DVDs and Video on your portable devices, so what are you waiting for? Just try this and have a colorful digital experience!
Mac DVD Ripper
Newbie





Number of posts

: 14


Registration date :

2010-04-09



this semester i had 3 extended periods of no sleep. the first was about 4 days long, watching a dozen movies and building a website about them (though i did pass out a few times in between). the second was about 2 days long, watching another dozen movies and writing a paper about them. the third was during finals week, 10 hours of playing warcraft followed by playing starcraft for more than 20 hours followed by 15 hours of parties parties, followed by a day of unconciousness followed by a final that didn't go very well.iPad video Converter Macavi to ipad converter
Forum Expert





Number of posts

: 881


Registration date :

2010-10-08



You people really don't know what the he'll you are talking about. Windows in a tablet? Come on look how many problems windows has In a regular desktop or laptop and now look and Mac os and the IOS is based on the Mac OS. Dude I change my windows 8 laptopեե
Congratulations apple, after years of business ignorance you finally leaped to another network. However great for some, but even though LTE consumes tons of battery life and wouldve been the x factor on a carrier dominated by the Android. Frankly its a great move, but I think it may be too late. Driod owns that carrier, and with late LTE devices coming this year you better get it on Apple!convert avi to quicktime mac
Consider it from the carriers perspective. To them its all about subscriber growth. Verizon became #1 in subscribers when they purchased alltel. At&t is growing faster than verizon, and will eventually pass then to become number 1 again. The graph shows that iPhone is a large reason for at&t's faster growth. So the playing field will become more level if vZ gets the iPhone. At&t's growth will not come at the expense of Verizon. Thats why they want it. convert mkv to avi Consider, for a moment, WebKit. Apple has done great things with it, but you can plausibly argue that licenses like MPEG-LA's in the HTML spec would have killed or crippled Apple's on web efforts, as follows:To start WebKit, Apple forked on earlier OSS project called Knoqueror, because Apple thought it was the best foundation on which to build Safari. Had H264 in the <video/> tag been part if the spec back then, it is arguable that Konqueror would not have been built; it is a certainty that it would have not gotten the same development attention that it did. No mature Konqueror -> No WebKit -> delayed or inferior Safari (and Chrome, for that matter.) That is why this fight matters, because the inclusion of such tech in the official spec keeps (some of) the most innovative players out of the game, and in so doing closes part of the web for us all.


Similar topics
---
Permissions in this forum:
You
cannot
reply to topics in this forum